Main page I Why Svarog386 I Tech I NLS
Svarog386 - a FreeDOS distribution for 386+ computers
brought to you by Mateusz Viste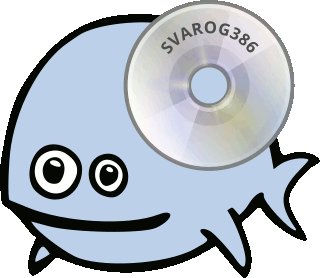 Svarog386 is a free, multilingual DOS distribution based on FreeDOS. It's released in the form of a single bootable CD image (ISO) that contains the FreeDOS kernel, a command interpreter and a variety of third-party packages.
Svarog386 is a "rolling release", meaning that it doesn't follow the concept of "versions". Svarog386 can be kept up-to-date either via online update repositories or by using the latest ISO image as your local package repository.
Svarog386 is not designed for strict 8086 compatibility. Many parts of it might require a 386-class CPU. If you look for a simple 8086 FreeDOS distribution, take a look at Svarog86.
Need to get in touch? Wish to contribute some packages, translate Svarog386 to your language, or otherwise contribute? Feel free to drop a line or two to the usenet group alt.os.free-dos.
(298M, last update: 05 Mar 2018, MD5)
(466M, last update: 05 Mar 2018, MD5)
You might want to know what it is exactly that you are about to download, before fetching the multi-megabytes ISO file. Feel free to browse the listing of all the packages that come with Svarog386.
If your computer is unable to boot from a CD, you can use Svarog386's boot floppy image to install Svarog386 (you still need to put Svarog386's CD in your drive).
Wondering how Svarog386 is built? You might want to take a look at the project's SVN, where all the build-related files are stored.